Online Divorce
in Wisconsin
Simple process to get divorce papers online
Affordable pricing plans with no hidden fees
Unlimited changes to forms and free revisions
Divorce papers ready to download in two business days
Step-by-step filing instructions
Award-winning tech support for all customers
Divorce in Wisconsin is quick and easy
Divorce Online in Wisconsin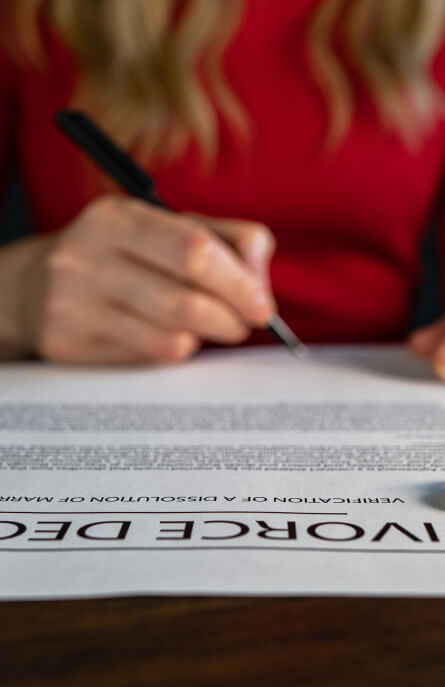 Wisconsin Online Divorce is a 100% legit, affordable, and quick service that allows you to prepare your divorce forms and launch the filing process.
The term Online divorce could be misleading. A person cannot get a divorce online in Wisconsin. Only a judge can grant a divorce. Basically, it is an online service that aids people with preparing their divorce forms.
Here are some of the advantages provided by an online divorce:
Any gadget (PC, laptop, or smartphone) can be used to access the service;
No need to hire and meet with divorce attorneys;
A low-cost option for people who want to save money;
The ability to edit forms on demand;
State-specific filing instructions are included in the price.
The only thing needed is to identify whether a person is eligible for an online divorce by going through our simple online questionnaire. A person can get ready-to-sign divorce paperwork online in Wisconsin without breaking a sweat!
How to qualify for an online divorce?
The first requirement for an online divorce option is to make sure that both spouses have settled their differences regarding important matters such as alimony (spousal support), child custody, property division, etc.
After ensuring that both parties are on the same page, they are eligible for an uncontested divorce. This is where the filing spouse (also known as the petitioner) goes through an online questionnaire at Wisconsin Online Divorce to provide the system with case details. The platform will then generate ready-to-sign divorce forms.
Try our innovative system and prepare your divorce paperwork in no time!
Compare Your Options for Filing for Divorce in Wisconsin
Divorce With a Lawyer
A traditional divorce where spouses hire attorneys to assist them.
A lawyer can cause new conflicts, making the divorce more complicated
Children can suffer emotional damage if they are caught in their parents' conflict
Lawyer's services can ramp up the cost of divorce by thousands of dollars
Attorney's schedule can prolong the divorce process
Wisconsin Divorce Online
A quick, cheap, and comfortable option for an uncontested divorce.
Access Wisconsin Online Divorce from any place with internet access
Access your divorce forms at any time and edit them for free
Prepare your papers from the comfort of your home, office, or any other place
Our 24/7 support is at your service
DIY divorce
This is the cheapest but the most complicated path. You go through the whole divorce process without any assistance.
A lack of legal knowledge leads to numerous mistakes while filling out papers
Paperwork preparation can waste lots of time, prolonging the divorce
A higher risk of an unwanted outcome and potential disputes
The petitioner may face extra expenses during the filing process
Here's how our process works.
Looks complicated?
Get your hassle-free divorce
Provide your case details
2
File for Divorce Online in Wisconsin Without a Lawyer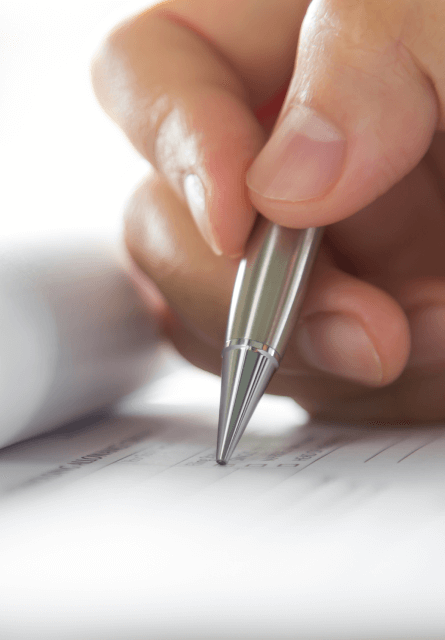 Dissolution of marriage is not an easy endeavor. It becomes more complicated if both parties are not able to reach an agreement on things such as alimony, child custody, property division, and so on.
Filing for divorce can be handled in one of the following ways:
Spouses can file prepared divorce forms with the local clerk or e-filing services.
Spouses can use Wisconsin Online Divorce to file the papers.
Scenario 1: Uncontested Divorce
This path is available for partners who are able to sort out their differences without a need for court hearings:
Prepare all the required papers for a dissolution of marriage;
Sign divorce documents in front of a notary public;
File the papers with the local clerk or using the e-filing service or Wisconsin Online Divorce.
Scenario 2: Joint Dissolution of Marriage
This is an excellent option for couples who are seeking an uncontested divorce. The main difference is in the required forms. Joint dissolution of marriage is available if spouses:
Agree on all the terms and conditions;
Are on good terms to file together.
Do-It-Yourself Divorce in Wisconsin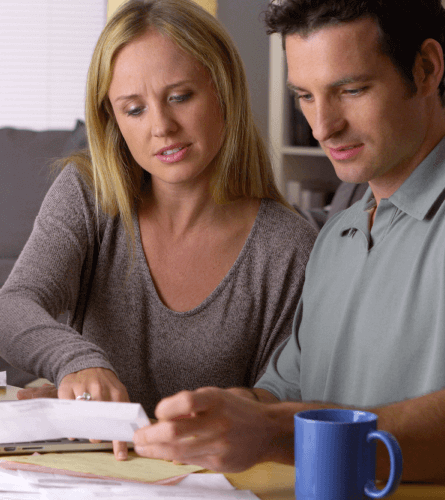 This option is not recommended for couples who are not able to reach an agreement and are proceeding with a contested divorce. Below is important information for spouses who decide to file for divorce without any assistance.
In order to save money, it may be a good idea to consider couple counseling or mediation. These options can make the divorce process easier.
Wisconsin Online Divorce is able to take care of the hardest step - preparation of divorce paperwork.
Step 1. Acquire forms that fit the individual case
Each case has its own specifics. That is why it is important to pick the proper set of forms.
Step 2. Fill out the appropriate forms
It is imperative for the partners to be on the same page, as conflicts can lead to mistakes. Any kind of typo could cause the court to reject the papers.
Main documents for a divorce in the state of Wisconsin include but are not limited to:
Summons;
Petition for divorce
Admission of service;
Affidavit of service.
Step 3. Filing the documents
A copy of prepared and signed papers has to be filed with the local county clerk. The clerk checks whether all the documents are properly prepared, filled out, and signed. If everything is in order, the court will accept the paperwork.
Step 4. Serving
The petitioner is obligated to serve signed divorce papers to the receiving spouse. There are several ways of completing this task:
Hire a county deputy to deliver the papers
Hire a private process server to do the task
Ask any adult who is not connected to the case to deliver the divorce papers
All Required Wisconsin State Forms.
Wisconsin-Specific Court Filing Instructions.
Unlimited Revisions for as long as your account is active.
Getting a Divorce With Children in Wisconsin
Divorce with children is quite similar to a traditional divorce process. However, there are differences that parents need to know about when filing for divorce.
Custody
The state of Wisconsin recognizes two types of custody, which can be sole or joint:
Legal custody
Placement (physical custody)
The first one refers to the parent's right and responsibility to make important decisions concerning the child. This includes but is not limited to healthcare issues, religion, school, and even consent to acquire a driver's license.
The second one is called "Placement" but is actually physical custody. The term refers to the parent's right to have a child physically live with them. This also means that a parent is responsible for the daily decisions for the child's care.
Placement is often shared, or one of the parents may have primary physical custody over a child. The decision regarding placement is usually affected by proximity to school, parents' work hours, and the child's wishes (although this depends on the age of a child).
Child Support
Child support is financial payments made from one parent to another for a variety of expenses that include tuition, food, housing, and so on. Standard child support in the state of Wisconsin is 17% of the gross income for one child. However, the percentage can rise to 34% if the parents have 5 or more children.
Residency Requirements in WI
To be eligible for a divorce in Wisconsin, one of the partners has to meet the residency requirements. The petitioner or defendant must have lived within the state for at least 6 months before the filing process. Moreover, one of the spouses must have resided in the county of filing for at least 30 days.
If the divorce involves minor children, the situation is similar. A petitioner must qualify for the court's jurisdiction to make decisions regarding child support, child custody, and alimony.
A child who falls under custody orders has to have lived within the state with a parent for at least 6 months before filing.
How Long Does It Take to Get a Divorce in Wisconsin?
There are lots of factors to consider when trying to determine how long the divorce will take to be finalized. Everything depends on the type of divorce, negotiation/mediation time, preparation of divorce forms, and more.
Wisconsin has a mandatory waiting period for a no-fault divorce to be finalized - 120 days from the day of filing the divorce papers. The court may require more time to review all the forms submitted after the initial filing.
When it comes to fault-based divorces, it usually takes a lot longer. The reason is quite simple - the petitioner has to provide proof of their accusations. This makes the time required to finalize a divorce almost impossible to predict.
Similarly, a contested divorce can drag on a lot longer due to numerous court hearings because of the inability of partners to reach a consensus regarding important matters.
Customer Testimonials
Very easy process, just answered questions and was taken to where you needed to go. Took the hassle out of trying to figure out what to do since we are not planning on using representation. Would definitely recommend!
Wisconsin Online Divorce was super simple, quick & easy to navigate & use! It took me less than 10 minutes from start to finish to complete!
This was my first time doing this online myself. It was easy and the support team was very nice to help me with any question and any problems that I had problems with Thank You
Very easy and friendly people with fast service and the paperwork for online is self explanatory!
I found this process to be very easy and inexpensive. Because my husband is refusing to help with any of this including the financial piece this was something I could afford on my own. Also I could fill out the entire questionnaire without needing to contact him.
Very easy to use. I recommend this to anybody. If your divorce is "not" messy like mine. This is the best way to do it. I am not going to make a car payment (Porsche, Mercedes or BMW) for any Divorce Attorney any time soon...
So far my experience has been great! Easy to use and if I did have a question, I would get a response same day or next. Definitely a great option for my situation.
Great Service! If you are going thru or getting started on a divorce, you need to look no further.
The best decision for filing, I only needed the paperwork and to have them filed, I was quoted 4,800 just for that by a private Law firm! I paid nothing close to that with this service!!
Frequently Asked Questions
How to file for an uncontested divorce in Wisconsin?
Spouses who agree on all the terms and conditions without needing the court's involvement can begin their divorce by filling out joint forms and filing them with the local county clerk. The next step is to serve the papers and prepare any additional documents required by the court.
How much does a divorce cost in Wisconsin?
A DIY divorce can cost as little as the mandatory filing fees - approximately $200. However, couples make mistakes, leading to multiple filing attempts.
The cost of a contested divorce with a lawyer can reach $6,000-10,000, depending on the hourly rate.
Wisconsin Online Divorce is the most cost-effective way to prepare and file a divorce in Wisconsin, with the price being only $139.
How to get a free divorce in Wisconsin?
A petitioner may request a waiver due to financial struggles. If the court accepts the request after reviewing evidence, the petitioner can file papers for free.
How to get divorce papers in Wisconsin?
It is possible to acquire divorce forms in person from the local county clerk, from the Wisconsin Courts System's website, or from Wisconsin Online Divorce.
Where do I go to file for an uncontested divorce in Wisconsin?
Papers should be filed with the local county clerk after they are completed. It is possible to do so in person or through the e-filing service. It is also possible to file an uncontested divorce online in Wisconsin with the help of our services.
What are the grounds for divorce in Wisconsin?
Wisconsin is a no-fault state. This means that the only ground required to begin the process is to state that the marriage is broken beyond repair due to irreconcilable differences.
How is property divided in a Wisconsin Divorce?
Wisconsin is a community property state. This means that all the property and assets acquired during the marriage are equally divided between the spouses.